Overview
Australia charms millions of business travellers as well as tourists every year to visit with their families and friends.Australia is the world's 6th largest country by total area.It has six states namely the New South Wales, Queensland, South Australia, Tasmania, Victoria and Western Australia.
Weather
The country experience all four season's that is summer, winter, autumn and spring. Summers are from December to February; autumn are from March to May, winters are from June to August and springs are from September to November.
Tourist Attractions
Australia attracts over two million people every year from different Countries to explore and experience the incredible Australia live. Sightseeing list is endless but prime tourist attractions of Australia are the Great Barrier Reef; Uluru; Sydney Opera House; Sydney Harbour Bridge; Taranga Zoo; Sea World; Australia Zoo; Kakadu National Park; Darling Harbour; Dream World; Sydney Tower; The Rocks; Luna Park, Sydney; Queen Victoria Market; Melbourne Museum; Adventure Land and last but not the least Wildlife Sydney.
Beaches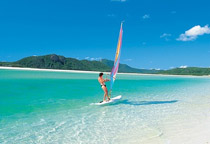 Australia is renowned for its beautiful beaches. Top ten beaches of Australia must to explore are White Haven Beach at Whitsunday Island; Cable Beach in Broome Western Australia; Burleigh Heads (Gold Coast) in Queensland; Noosa Main Beach (Sunshine Coast) in Queensland; 75 Mile Beach (Fraser Island) in Queensland; Pirates Bay in Tasmania; Mandalay Beach in Western Australia; Byron BAY Beach in Northern New South Wales and last but not the least Lizard Island in Queensland and Bondi Beach in Sydney.
Water/Adventure Sports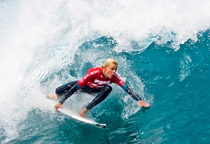 Australia is best known for its beaches and water sports. The most favorite water sport is Surfing in Australia. Australia's beautiful beaches and waves made this sport very popular. Canoeing and Kayaking; Diving; Wind Surfing are other water sports one should must try. On adventure front cycling, climbing, hiking and skiing are equally loved by localities and by tourists.
Nightlife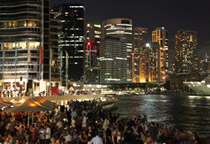 Australia has its own popularity when it comes to experience night life. From entertainment shows to partying in clubs, pubs and lounges, dance clubs, magic and musical shows the Country has every share to enjoy nightlife.
Cuisine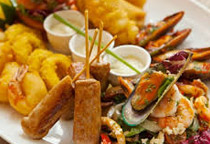 Australia National foods include macadamia nuts; Violet Crumble, a honeycomb chocolate bar; Cherry Ripe; Jaffas, chocolate with an orange-flavored confectionery shell; the Chiko Roll, spring roll; chocolate biscuit; musk sticks; fairy bread and cereal Weet-Bix favorite breakfast of all local people. Whereas Australia is highly popular for its street food also, hamburger is on the top of the list.