Overview
Dubai is located in the United Arab Emirates on the South East Coast of the Persian Gulf. The city is well known as one of the seven emirates that make up the Country. From New Year celebration to shopping festival every year, the city is loved by every age group to have fun and adventure.
Weather
The weather remains same throughout the year with sunny days from April to November whereas the best time to visit Dubai is from December to March that welcomes rainfall with winters.
Tourist Attractions
The city has endless list of attractions to explore. But on the top is Burj Khalifa also as known as Burj Dubai. It is 2,722 feet tallest man-made high-rise building not only in Dubai also in the world. The structure prime attraction points are Dubai Fountain; an outdoor observation deck and Burj Khalifa Park. Dubai other major attractions are The Dubai Mall, Wild Wadi Water Park, Ski Dubai, Dubai Museum, Palm Islands, Dubai Greek, Jumeirah Beach Hotel, The World, Dubai World Trade Centre, The Dubai Fountain, Dubai Zoo, Desert Safari, Deira Island, Deira Clock Tower and many more.
Beaches
Dubai beaches also fascinate every tourist to spend some quality time. Two top most popular beaches are Mamzer Beach Park;it is one the most desirable beach to visit. People enjoy barbecue beside swimming pool. There are cafes and small market to buy funky stuff and enjoy yummy local snacks. Second is Jumeirah Beach Park which is stretch with golden sand and palm trees where hawkers sell snacks and soft drinks to enjoy at the beach side.
Water/Adventure Sports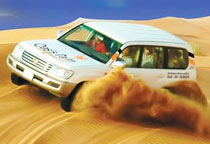 For adventure lovers the city holds many adventure water sports like diving, fishing, boating adventure, Jet Ski and last but not the least desert night safari.
Nightlife
When it comes tonight life, the city is full of fun. There are many night clubs to enjoy nightlife and the city also organizes events, concerts and gigs frequently.
Cuisine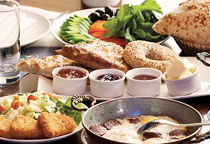 Dubai Cuisine has its own share of popularity. From Indian Biryani to Arabic food,the city is also popular for South Asian and Chinese fast food available in every street corner and restaurants. Some must try dishes are "Al Harees" mostly served during Eid and Wedding. It is cooked with meat and wheat. Next is "Hummus", it is a popular dip served with dishes like Shawarma and pita bread and with other appetizers. "Shawarma" is a kebab wrapped in Arabic Roti and last but not the least "Al Machboos", a traditional dish of UAE cooked with rice, meat and dried lemon flavor along with other traditional spices