Overview
Be it a Film Shoot, Destination Wedding, Honeymoon, Bachelors Party, Christmas & New Year Celebration or partying with friends there is every reason to visit Goa at least once in a life time. Popular for its beaches, night life and last but not the least cuisine Goa makes you go crazy to party all night and relax with your friends and family.
Weather
Best time to visit Goa is between Months of November to March. Where as month of December gets the highest foot fall of tourists from all over the world for Christmas and New Year Celebrations.
Mostly days are hot in Goa with approximate temperature recorded above 30*c but on the other hand evenings are cool with thunder showers in between March to September and cool breeze throughout the year.
Tourist Attractions
Goa Beaches: Goa is renowned for best beach destination in India. There are numerous beaches but among all most popular beaches are Agonda in South Goa, Anjuna Beach in North Goa, Candolim Beach, Calangute Beach and last but not the least Baga Beach a popular hot spot.
Market: Goa markets are popular for buying keep sakes for your loved ones; for tattoo artists at every corner; for its signature drink Fanny and last but not the least for funky jewels and clothes.
Old Goa: Old Goa is popular for its historic monuments and Churches. The Old Goa Church, Basilica of Bom Jesus is most visited.
Beaches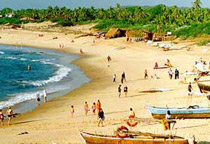 Best known for its beaches, Goa has numerous beaches to visit but among all top most admired beaches are:
Agonda Beach: Situated in South Goa. It is loved by tourists who want to relax and love to take sun bath near beach side. This beach is relatively calm and less crowded surrounded with greenery and some restaurants and souvenir stalls.
Anjuna Beach: Situated in North Goa. This beach is popular for its Wednesday Market visited by number of tourists and localities. It is the happening spot in North Goa.
Candolim Beach: nearest to Panaji City Candolim Beach is popular among all. Best visited for Parasailing and water skiing and other water sports.
Calangute Beach: Calanguate Beach is known for best market with showrooms of handicrafts of all most all states of India like Rajasthan, Kashmir and etc.
Baga Beach: Last but not the least Baga Beach that comes in top hot tourist destination. It is the most happening beach which is active 24x7. Baga Beach Nightlife makes it most crowded beach among all.
Water/ Adventure Sports
Historically, this was the gateway on ancient Silk Road. Today; it's a beauteous hill station, considered as a base for the trekking to Vishansar, Kishansar, Gadsar, Satsar and Gangabal.Ponies are readily available for the trip to Thajiwas glacier.
Nightlife
Goa is best known for its Nightlife with clubs, pubs and lounges, dance clubs, live shows on Shack near beach side and lots more. Baga Beach is the best place to enjoy and party all night in Goa.
Cuisine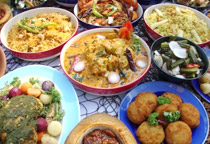 Goa is renowned for its Goan Cuisine that is Sea Food cooked in milk and coconut oil. Sea food popular dishes are crabs, prawns, tiger prawns, lobster, squid, and mussels. The Goan food is influenced by the Portuguese.
Goan Catholic Cuisine is also equally popular as its Portuguese Cuisine. One can try Ambottik a sour curry dish prepared with either fish or meat and Bebika pudding traditionally eaten at Christmas.