Overview
Himachal Pradesh, spread over 21,495 sq m, is surrounded by Tibet Autonomous Region on the east, Punjab on the west, Jammu and Kashmir on the north, Haryana and Uttarakhand on the south-east. Himachal Pradesh is mountainous possessing deep valleys, beautiful waterfalls and giant ranges. Himachal, the state of apples, produces massive quantities of apples.
Weather
In Himachal, from one place to the other, excessive climatic variation exists. Certain areas get heavy rainfall while the others receive no rainfall at all. During summers, mid April till the end of June, it's extremely hot, from 28 °C (82 °F) to 32 °C (90 °F). In winters, late November till mid March, Snowfall is frequent.
Tourist Attractions
Shimla -Shimla, once the summer capital of the Britishers, is now the capital of Himachal Pradesh. Being surrounded by oak, pine and rhododendron forests, Shimla's cool breeze and greenery make it fascinatingly alluring. Historical railway and colonial style buildings give Shimla an antique and exclusive look.

Scandal Point, and the Viceregal Lodge, especially during the sunrise or sunset, on Observatory Hill are magnificent. Enormous sports and short hikes add to the adventure of the city. One of Shimla's most prominent landmarks is the old Christ Church.
Dharamsala and MacLeod Ganj
Both cities are located in the Kangra Valley. The Dalai Lama lives in Dharamsala. His followers, many Tibetans, have followed him here. Resultantly, strong Tibetan culture is the main attraction of the city. The spotlight is Tsuglagkhang Complex, the official residence of the Dalai Lama.

Buddhist meditation and philosophy courses, Tibetan cooking classes, and Tibetan language courses tempt people to Dharamsala and MacLeod Ganj. Beautiful museums, temples, gompas, and monasteries add to the beauty of these cities.
Spiti
Spiti is enveloped by the border of Ladakh and Tibet. During high proportion of the year, this barren alpine desert is covered with heavy snow and hence, is relatively unheard of. Since 1991, Spiti has been accessible to foreign tourists. A long drive from Manali brings you to Spiti.
Dalhousie
Dalhousie, a hill station, Spread out over the five hills, reveals the echoes of the British Raj. Dalhousie is named after the General Lord Dalhousie, 19th century British Governor. Varied pleasing flora like pines, deodars, oaks and flowering rhododendrowns enrich its divine vegetation.
Lakes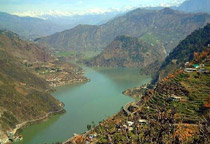 Renuka Lake, the largest natural lake in Himachal, lies in Sirmour district. Rewalsar Lake, square shaped, protected by dense vegetation, and is situated in Mandi district. Khajjiar Lake, held sacred to Khajjinag, surrounded by Kalatope sanctuary, is situated in Chamba district, 23 kms. From Dalhousie. Chamera Lake built over the river Ravi not only generates 540 MW of electricity but also offers a range of water sports. Dashir Lake, 3 meters deep, 4270 meters near the Rohtang pass, connects district Kullu and Lahaul.

The other pictures que lakes are Seruvalsar Lake, Prashar Lake, Bhrigu Lake, Manimahesh Lake, Nako Lake, Suraj Tal Lake, Chandra Tal Lake, Gobind Sagar and Maharana Pratap Sagar Lake.
Cuisine
Dal and Chawal or plain rice and pulses is extremely common in Himachal providing imperative nutrients, carbohydrates and proteins, for body's development. Roti Sabzi or flat pan cake like bread made of vegetable curry and wheat has distinguished delicious flavor. Sidu and Patande, vegetarian dishes and meat cooked with cardamom, cinnamon, cloves having aroma for enhancing the appetite are also offered to the guests.

Dham, the food festival celebrated in Himachal captivates tourists globally.