Overview
Jammu and Kashmir, located in the Himalayan mountains, shares an international border with the People's Republic of China in north –east, and Pakistan in the west. Comprising of three regions: Jammu, the Kashmir valley and Ladakh, Jammu and Kashmir is enveloped by Himachal Pradesh and Punjab in south. Srinagar being the summer capital and Jammu being the winter capital are famous for captivating mountainous landscape and alluring flora and fauna.
Weather
During summers, Jammu is extremely hot. The temperature can reach up to 40 °C (104 °F) Rainfall, average 40 to 50 mm per month, occurs during monsoons, January to March. Heavy rainfall, up to 650 millimeters, is a feature of July and August .Minimal rainfall occurs in September and October.
Tourist Attractions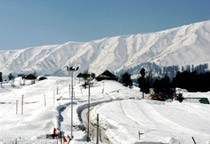 GULMARG has attained its name in the 16th century by Sultan Yusuf Shah. From Gulmarg, Emperor Jahangir collected 21 variants of flowers. Today; its exquisite beauty not only makes it an exceptionally gorgeous mountain resort but also the highest green golf course, at an altitude of 2,650 m, in the world.
Ahalgam
Ahalgam, was once a shepherd's village with stunning views. Being Kashmir's premier resort, it caters to various facilities, from luxurious hotels to lovely trekkers' lodges, for meeting all budgets. Baisaran meadow, surrounded by forests possessing exceeding pines is breath takingly elegant. On the way to Chandanwari, Hajan is irresistible picnic spot.
Sonamarg
Historically, this was the gateway on ancient Silk Road. Today; it's a beauteous hill station, considered as a base for the trekking to Vishansar, Kishansar, Gadsar, Satsar and Gangabal. Ponies are readily available for the trip to Thajiwas glacier.
Amaranth Yatra
Shiva, known as the supreme God, stayed in Himalayas. He revealed the creation's secret to Parvati, his wife, in the Amaranth cave. A pair of mating pigeons heard their conversation. Hence, they are reborn consistently. While trekking enormous pilgrims have seen the pigeons' pair.
Lakes
Dal Lake: great body of water comprising trees of willow and Poplar on the edges, the Dal Lake is magnificent.

Manasbal lake: Between Sopur mountain and the river, a small lake, Manasbal, is enveloped by Aha-thung, a low hill. Lotus is excessively seen.

The other lakes include wular lake, Nagin lake, Anchar lake, Gangbal lake and Vishansar lake and Krishnasar.
Cuisine
Rice is commonly eaten. Cinnamon, cardamom, cloves, saffron, spices add to the flavor. Non vegetarian, Mutton, chicken or fish, forms an imperative part of the daily meals. Popular combinations are Mutton and turnips, chicken and spinach, fish and lotus root. Delicious dum-aloo, roasted potatoes in curd-based gravy and chaman- fried paneer are mouth watering vegetarian meals.