Overview
Kerala, India's cleanest state is surrounded by the Arabian Sea in the west and the Western Ghats in the east. Kerala, located on the Malabar Coast in the south-west region of India, is divided into fourteen districts possessing hundred percent literacy rates.
Weather
Extensive rainfall, averages 3,107 mm (122 in) annually, makes Kerala to be wet and maritime. Here, temperatures range from 25.0 to 27.5 °C. Due to southwest monsoon 65% of the rainfall occurs from June to August making Kerala prone to storm surges, and rises in sea level. Northeast monsoon causes 35 percent rainfall from September to December.
Backwater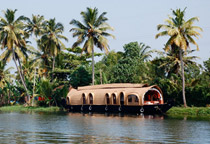 900 km of waterways interconnected by canals, rivers, lakes form a network, the Kerala's backwaters, parallel to the Arabian Sea coast. This interconnection includes five large lakes linked by canals, furnished by 38 rivers. A number of towns and cities, in the midst of this beautiful countryside, act as the beginning and the destination points of backwater cruise.

Alappuzha, Alappuzha, Alumkadavu, Kollam, Ashtamudi, Chandragiri, Kumarakom, Kumbalangi, Kuttanad, Mannanam in Kottayam, Kochi are enchanting backwater
Beaches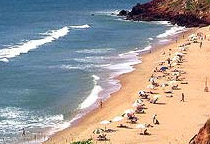 Beaches, extending along the 550-km Arabian Sea coastline, are enthralling and captivating. Entertainment facilities at Alappuzha beach are enormous. Alappuzha, a houseboat cruise, is a delightful experience. Fishing harbor is the major attraction in Beypore beach. Chavakkad Beach, Thrissur, Cherai Beach, Kochi, Chowara Beach, Kovalam, Kanwatheertha Beach, Kasaragod Kappad beach, Kozhikode Kappil Beach ,Kizhunna Beach, Kannur and Kolavi Palam Beach, Payyoli have amazing view and are fascinating for swimming .
Forts and Palaces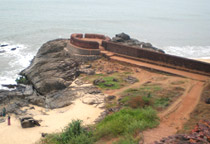 36 km North of Thiruvananthapuram, Anjengo Fort, Varkala, was chosen by the English East India Company in 1684 for building their trade settlement. Umayamma Rani of the Venad Royal Family, from 1677 to 1684, built the Koyikkal Palace, Thiruvananthapuram. Bekal Fort, Kasaragod is the largest fort in Kerala. Sivappa Naik of Bedanore got Chandragiri Fort constructed in the 17th century. Kilimanoor Palace, birth palace of Raja Ravi Varma has beautifully carved paintings. Portuguese in 1557 built and presented Mattancherry Dutch Palace, Ernakulam to Raja Veera Kerala Varma of Kochi. Other marvelous forts erected by the Portuguese, the Dutch and the British include Krishnapuram Palace, Kayamkulam, Padmanabhapuram Palace, Pierce Leslie Bungalow, Fort Kochi and Poonjar Palace, Kottayam.
Cuisine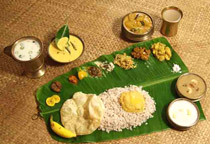 Nourishing Ladakhi food, Thukpa, a thick soup with vegetables and Momos stuffed with meat or vegetables is delicious. Immense bakeries serve freshly baked bread which can be eaten with locally made Apricot Jam. International meal is readily available at many restaurants in Leh.

NGO has been organizing a two-day traditional food festival since last 15 years, attracting tourists globally. Here, all local dishes, made hygienically, are served. This is done for popularizing Ladhak's rich traditional culture.