Overview
Manali, 250 kilometers from Shimla, located at a height of 6,398 ft, near northern end of Kullu Valley, Himachal Pradesh, is immensely beautiful hill station.
Weather
Summers are cool ranging from 04 °C (39 °F) to 15 °C (59 °F). Winters are exceedingly cold, between −15 °C (5 °F) and 05 °C. Climate though is unstable yet snowfall is an often feature between November end to early February.
Tourist Attractions
Gulaba Camp, 20 kilometers from the town, is extremely captivating possessing fascinating scenic beauty. Nehru Kund, named after Pt. Jawahar Lal Nehru, the late Prime Minister of India, is alluring clear water spring. It is on Keylong Road, 6 kilometers from Manali. Vashisth Village, known for pleasing traditional houses made of timber, hot water springs and many more, is only 3 kilometers from Manali.
Locations near Manali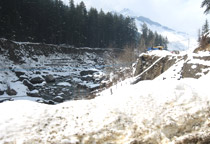 Rohtang Pass, at a distance of 51 kilometer from the Manali, on the road to Manali-Keylong, is the uppermost point.
Cave of Arjuna called Arjun Gufa, at a distance of 5 kilometers from Manali, is known for being occupied by Arjuna, ages ago, for worshipping Lord Indra.
Jagatsukh Temple, 6 kilometers from Manali, is one of the enthralling villages in the district.
Kothi, 12 kilometers away from Manali, is another wonderful village located on Key-long road on the Rohtang Pass.
Old Manali, 3 kilometers from the new Manali, is appealing.
Temples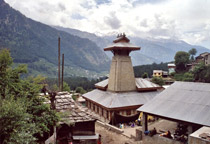 Manu Temple, 3 kms from old Manali, is the only temple of Manu Rishi, creator of human race, in India. Dhoongri Temple, built in 1533 A.D, dedicated to goddess Hidimba, the Bhim of Mahabharat fame, is enormously gorgeous. Stunning doorway has legendary figures and symbols. Here, elephantine festival is celebrated in May.
Lakes
Rewalsar Lake shaped like a square, sacred spot for Hindus, Sikhs and Buddhists ,is admirable for being gifted adorable scenic beauty. Mandi, 39 km from Manali, has three lakes and Moorang, 45 km distant, contains 2 lakes. Of these the most popular and delightful are Rewalsar Lake near Mandi and Chandra Taal in Moorang.
Cuisine
Mouth watering dishes, kaddu ka khatta, guchhi matter and sepu vadi, are readily available. Famous drinks, hot milk, lassi or a curd drink and tea, are prepared from the cereals and milk products. Appetizers for non-vegetarians are kullu trout; grilled fish and chicken anaardana. Delectable Indian, Chinese and Thai cuisine are available from stalls to fancy restaurants.