Overview
Thailand is officially renowned as kingdom of Thailand and also known by the name "Siam". The country is located at the center of the Indo-china Peninsula in Southeast Asia. Be it honeymoon couples or group of friends everyone enjoys in Thailand from its cuisine to different tourist attractions.
Weather
Thailand enjoys different seasons from November to February the country has cool climate; from March to June its summers and from July to October its monsoon.
Tourist Attractions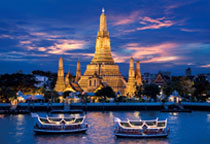 Thailand is enhanced by its hot destinations Bangkok; Chiang Mai; Chiang Rai; KohSamui; Krabi; Pattaya and Phuket. Khao Yai National Park Elephant ride; Thailand Temples and River Cruise; Floating Market Cruise; Bangkok dinner cruise on the Chao Phraya River are top most attractions to explore.
Beaches
Thailand is visited for its beaches and among all few popular beaches are Patong Beach the largest beach on the island of Phuket whereas Kata Beach is more relaxed and calm. Lamai Beach in Samui is a perfect balance beach for swimming and partying.
Water/Adventure Sports
Enjoy Phuket to Phi Phi islands speed boat ride; Canoe Cave explorer PhanguNga Bay tour in Phuket; Chiang Dao Elephant ride and Jungle trek along with Ping River rafting tour in Chiang Mai; Bangkok bike tour and hill tribe village tour; Jungle trek in Chiang Mai, boating adventure, Jet Ski and etc.
Nightlife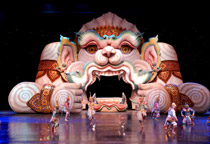 When it comes to Nightlife Thailand is the most picked up destination. Phuket Fantasea show and dinner; Thai dinner and classical Thai dance tour and Thai Kickboxing are mostly enjoyed by travellers in Bangkok.
Cuisine
Thailand is renowned for its National cuisine – Thai Cuisine. Thai Cuisine is globally popular and well known for is blend of balanced sour, sweet, salty and bitter taste. Thailand drinks Cha Yen, a Thai iced tea; Oliang, a sweet Thai black ice coffee is a must try. Whereas Desserts are equally popular among tourists like Khao Tom Mat, a traditional Thai Desserts prepared from sticky rice, coconut milk and banana. Another must try is Khanom Mo Kaeng a baked pudding containing coconut milk, egg, sugar, flour and sprinkled with sweet fried onions; KhanomThuaiTalai made of steamed sweet coconut jelly and cream. Thai Cuisine serves different flavor of different region like KaengLueanga Southern shared dish made of spicy yellow curry served with fish and vegetables. Another is Northern shared dishes,aKaengKhao spicy northern curry of herbs served with chicken/meat. Next is Northe astern shared dishes Kaiyang- a grilled chicken dish and Tom Saep- a northeastern style hot and sour soup. Last but not the least is Central Thai shared dishes Chuchi Pla Kaphong- a thick red curry sauce.