Overview
Uttarakhand, segregated into two regions, Garhwal in the north, and Kumaon in the south, is bordered by Nepal and Tibet. Uttarakhand, paradise on earth, is the homeland of Himalayas. Enormous Hindu temples and pilgrimage centers make Uttarakhand the "Land of the Gods".
Tourist Attractions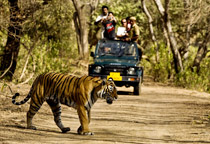 Corbett national park, named after the hunter Jim Corbett possesses eye-catching assemblage of wildlife. You can either take a jeep or an elephant safari to explore the park. Though exciting tiger reserve exists yet tiger sightings are rare. The Dhikala zone of the park provides attractive valley views.
Haridwar
One of the oldest living cities as well as the seventh holiest place in India, Haridwar, is an ideal city. The belief of sins getting washed away by taking a dip in holy Ganga River makes the city popular among Hindu pilgrims. The special charm, Ganga Aarti, is done in the evenings. Being the birthplace of yoga, Haridwar entices people for doing yoga. For enhancing intellectuality about Hinduism, people visit various ashrams. For relaxation, the place is pleasing and radiant.
Nainital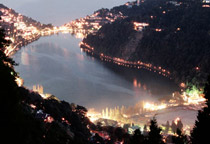 The magnetic Naini Lake is lined with hotels, shops and restaurants. You can enjoy the greenery of the forest by walking or by being on horseback. Also, relaxation is attained by boating.
Valley of Flowers National Park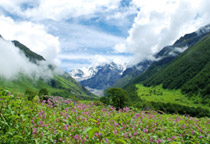 Post monsoon, the Valley of Flowers National Park in Gharwal becomes lively. 300 different varieties of alpine flowers make the place look wonderful. This bewitching place is the favourite trekking destination of the tourists.
Char Dham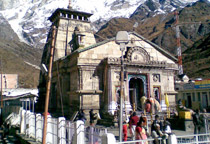 Four holy rivers', the Yamuna , the Ganges , the Mandakini, and the Alaknanda , spiritual source is Char dham.The thought of escaping from the cycle of life and birth by visiting Char dham, located high in the Garhwal region, makes the place enormously auspicious for Hindus.
Bheemtal
Bheem Tal lake received its name from Bhima, in the Mahabharata, known for his exceeding strength. The lake, 25 kms. from Nainital, located at 1,200 meters above sea level, is dazzling.
Devaria Tal
Considered to be immensely holy, Devaria tal is enclosed by adorable Chaukhamba peak
Dodi Tal
Dodi Tal is named after a Discernable trout, Dodi, found in the lake. This lake is the source of river Asi Ganga.
Dhalipur Lake
Garhwal Mandal Vikas Nigam developed water sports resort, offering water skiing, boating, rowing, etc., at Asan Barrage, popularly called Dhalipur Lake, in 1994.
Govind Ghat
It's the gateway for the Hem Kund Lake and is 2 kms before Pandukesar.
The other appealing lakes are Hemkund, Kashni Tal, Kagbhushandi Lake, Kedar Tal, Maneri, Naukuchia Tal, Naini Lake, Nachiketa Tal, Satopanth Lake, Shyamla Tal, Sahastra Tal & Masar Tal
Cuisine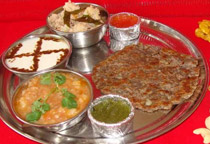 Nutritious as well as delicious food includes vegetables. Milk and milk based drinks and eatables are exceptionally palatable. While preparing dishes, tomato is hardly used. Certain prominent cuisines are Garhwal ka Fannah, Chainsoo, Kafuli, Jholi, Phaanu, Thechwani, Baadi, Ras, Bhatt ki Churdkani, Badil, Arsa (Dessert), Gulgula, Black and White Roti, Mandua ki Roti, Kulath ki Dal, Swala, Urad Bhuda, Palau, Kandalee ka saag and Jhangora ki kheer